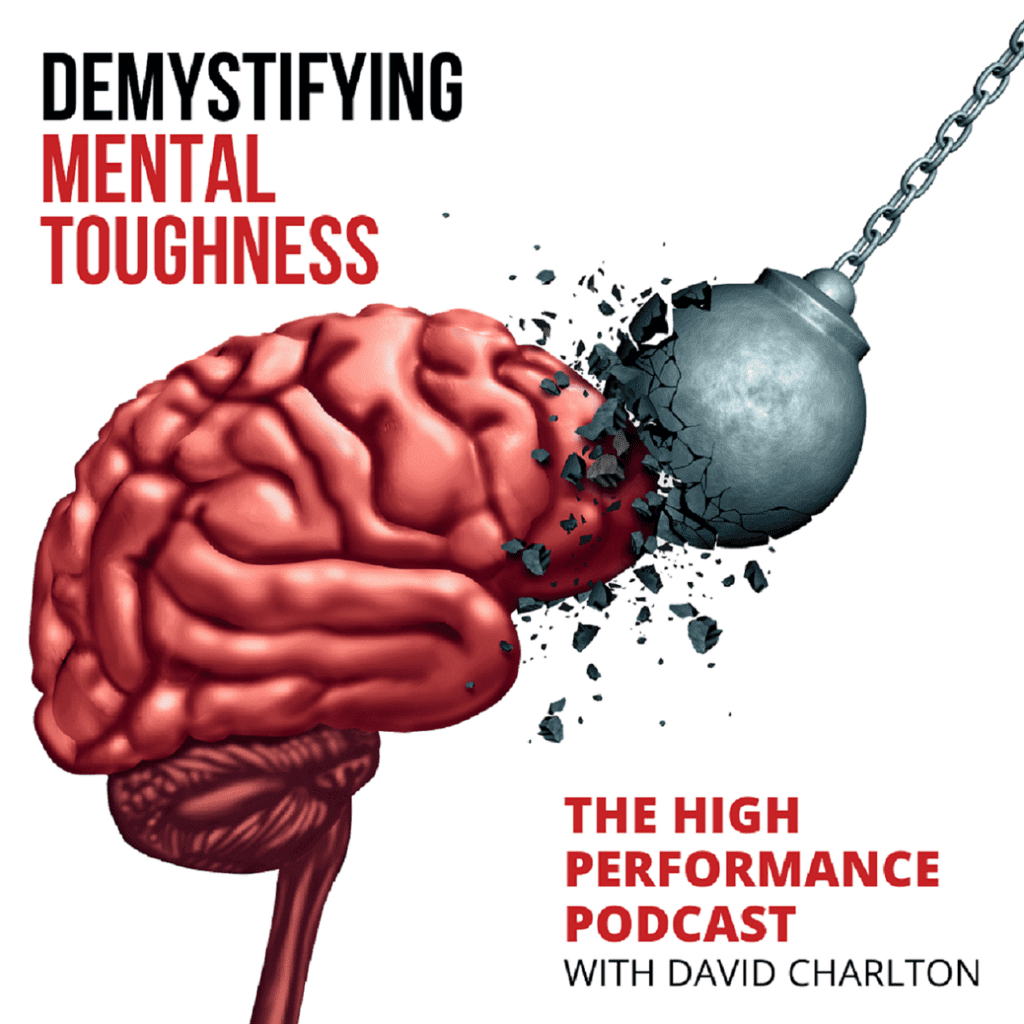 SUBSCRIBE, LISTEN AND DOWNLOAD ON YOUR FAVOURITE PLATFORM
Demystifying Mental Toughness is a podcast for people who want to reach their goals faster and are curious what high performing athletes and professionals do to fulfil their potential.  David Charlton shares insights, strategies and stories from leading athletes, coaches, psychologists and specialists to help you perform to your optimum level on a more consistent basis.  If you're a motivated athlete, coach, sport psychologist, mental game coach or executive listen in for proven and practical advice in this podcast.
This short episode is a taster to help you get the feel for the show.  By the end of it you'll understand what you can expect and why you should listen to the Demystifying Mental Toughness Podcast.  David also discusses his motivations behind the show,  why Mental Toughness development is so important if you want to achieve your potential. 
Incidentally, did you know that Mental Toughness accounts for up to 25% variation in performance.  
How much difference would that make to you and your life if you even just raised the bar by 10%?
Mental Health is an important topic at present because of the impact COVID-19 has had on people.  Is also a theme which is talked about a lot in elite sport, where a large amount of my work is.  Yet often people don't see the link between Mental Toughness, Mental Health and High Performance.  Therefore, in this episode we discuss this relationship where Dave Algeo then goes on to share why decision makers in organisations and clubs should take investing in people's mental health seriously.   
In this fascinating episode Alessia and David talk about what confidence is, what it feels like to be confident and things that impact on an athlete's confidence.  We then look at The Yips, Motor Cycle accidents, traumatic events and fear responses in the brain leaving athletes who have experienced these difficulties with an uplifting message of hope.  That's right you as an athlete can overcome these challenges with the right support and then take your performances to a new level.
In golf and across other sports you often hear the words "stay in the present" and "in the moment" mentioned.  In this episode Karl and David discuss common mental game challenges golfers, even elite professional golfers who have won major championships experience and strategies to help you manage your emotions and thoughts better on the golf course, essential ingredients of Mental Toughness. 
By listening to this episode and heeding the advice you will give yourself a great chance to reduce your scores by a few shots without changing your swing.  The tips also overlap to other sports, business and life in general and can help you take your performances up a notch or two.
In this episode, a bite of Mental Toughness, David shares 3 tips to help you mentally prepare better and overcome mental game challenges that you encounter. Frequently he refers back to discussions in previous episodes and other case studies to get his point across. The strategies are very simple, yet practical and can help athletes of all ability levels.
In this episode, Nick and David go on to discuss where highly motivated and hard-working people can go wrong, challenges that they face and the importance of rest and recovery to optimise their performance levels.  Nick goes on to share helpful information around the recovery pyramid which provides a structure for tailoring interventions and practical solutions.  If rest and recovery is something you can improve on this is well worth a listen! 
In this episode, David Charlton reflects on Karl Morris's podcast "How to Stay Present like a Major Champion" and discusses how you as an athlete, coach or professional can increase your own awareness so that you develop the characteristic of learning orientation.  Meaning that you are more effective, you learn from mistakes and go on to perform better.   That's right by listening to this episode and then taking action you won't keep on repeating mistakes like many people go on to!
In episode 17 of Demystifying Mental Toughness, David questions Gio Valiante on his approach to helping the world's top golfers.  By listening you'll understand some of the common fears golfers experience, you'll begin to appreciate that fear in golf and in sport and life in general is universal.  You'll also learn about flow states.  What "the zone" looks like and how a sports psychologist moves athletes from fearful to fearless, and finding flow states more regularly. Meaning that you are more effective, you learn from mistakes and go on to perform better.   That's right by listening to this episode and then taking action you won't keep on repeating mistakes like many people go on to!
In this episode, former Sunderland and Ireland footballer Kieron Brady and David discuss the unique pressures of top flight professional football. We also talk about Kieron's retirement at 21 years old and the aftermath of the situation where Kieron admits to losing his way. He discusses alcoholism and shares his inspiring story how he has turned his life around and has been sober since 2009. Kieron also discusses how he has spent much of the last decade or so specialising in helping people to recover from alcoholism, initially voluntarily and now professionally for SP Bespoke which he is very proud of. Tune in to listen to many nuggets of advice for young professional footballers on how to sustain a good and lasting career in the game.
Paul Smith is an inspirational charity runner who at the time of recording the episode had run for an amazing 5007 consecutive days.  He'll often be seen wearing outlandish costumes on his runs and wearing a big smile on his face, however just like many people, Paul has also experienced difficult times and is very good at masking his emotions.  In this very inspiring, funny and thoughtful interview, Paul opens up and share's his journey to date, his hopes for the future, challenges that he has faced and conquered.  For anyone who enjoys running, exercises to help them maintain positive mental health or would like to get into running but has been holding back, this episode is well worth a listen.   
The 20th episode of Demystifying Mental Toughness highlights the best bits of episodes 11-19 and has some great stories and bits of advice included. We discuss different aspects of the 4C's – Commitment, Confidence, Control and Challenge. Highlighting the importance of culture, consistent habits, staying present in the moment with mindfulness techniques and much more. If you are an athlete struggling right now or you're looking for an edge to boost your performances I'm sure you'll gain lot's of hope from tuning in.
Join Our Growing Online Community
Are you an athlete, coach or parent that would like to learn how to create sustainable high performance? 
Receive my free fortnightly email, where I share proven Sports Psychology and High Performance tips and strategies. 
If you want some support and motivation straight to your inbox, then fill in your details below.