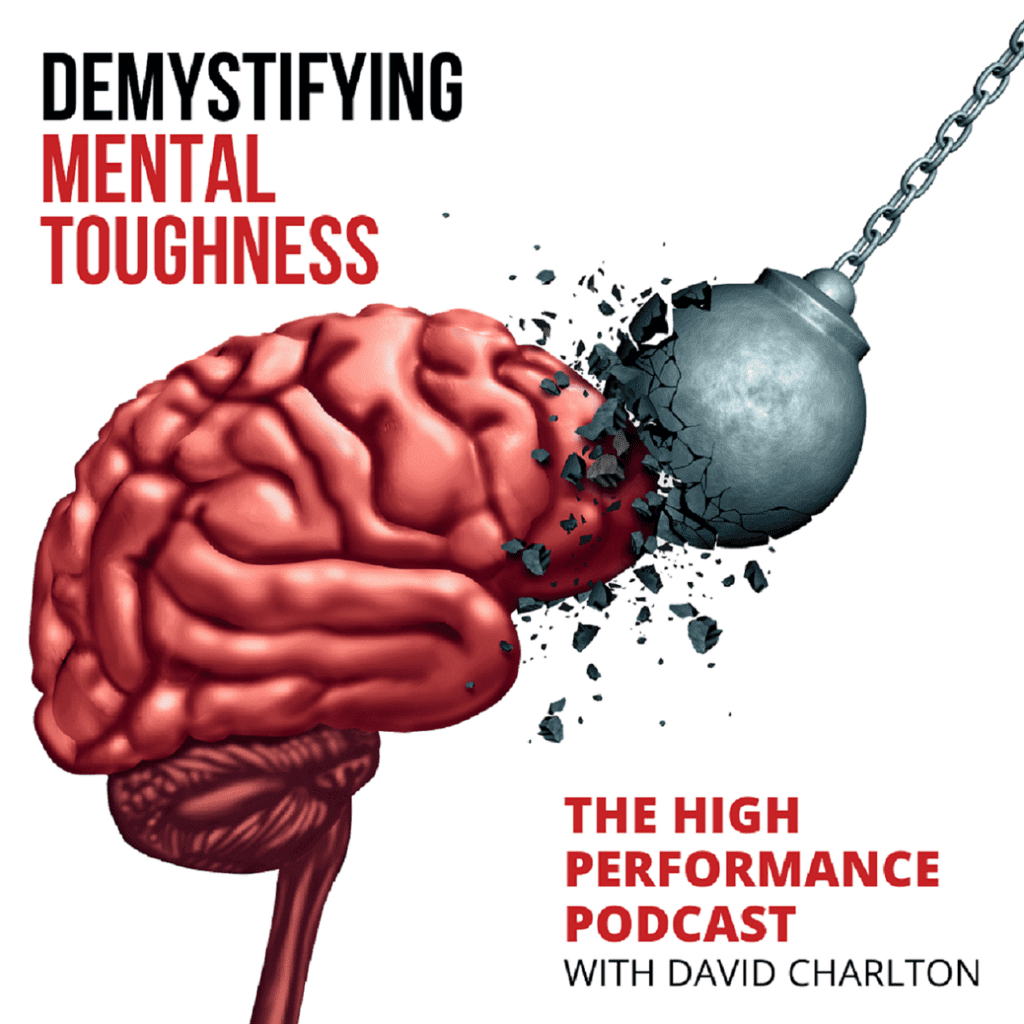 SUBSCRIBE, LISTEN AND DOWNLOAD ON YOUR FAVOURITE PLATFORM
Demystifying Mental Toughness is a podcast for people who want to reach their goals faster and are curious what high performing athletes and professionals do to fulfil their potential.  David Charlton shares insights, strategies and stories from leading athletes, coaches, psychologists and specialists to help you perform to your optimum level on a more consistent basis.  If you're a motivated athlete, coach, sport psychologist, mental game coach or executive listen in for proven and practical advice in this podcast.
This short episode is a taster to help you get the feel for the show.  By the end of it you'll understand what you can expect and why you should listen to the Demystifying Mental Toughness Podcast.  David also discusses his motivations behind the show,  why Mental Toughness development is so important if you want to achieve your potential. 
Incidentally, did you know that Mental Toughness accounts for up to 25% variation in performance.  
How much difference would that make to you and your life if you even just raised the bar by 10%?
Steve Hackney is a former rugby union professional who played over 200 games in England's top division for Nottingham and Leicester Tigers.  Since retiring from professional sport Steve has applied his elite sporting attributes to helping entrepreneurial talents grow their businesses.  Today we discuss challenges that he faced in his rugby union career, as well as problems coaches and consultants in private practice can experience.  He then goes to share his wisdom on how to deal with such obstacles in your path and succeed.
Enjoy tuning in!
Robbie Thompson is a personal trainer & lifestyle coach who has supported many entrepreneurs, athletes, actors & celebrities.  His diverse client range & experiences have helped him develop strategies that stand up to the requirements of the lives of very busy, high performing people.   Today we discuss typical challenges people have, how comparing yourself to other people can be problematic as well as sharing a number of takeaways regarding building simple habits to improve how you feel about yourself.
David reflects on previous episodes of Demystifying Mental Toughness today.  Where he refers back to episodes that link to self-confidence.  He talks about where we get in our own way.  How powerful our inner voice can be. 
David shares his thoughts and offers some suggestions for you to manage and maintain your confidence levels so that you thrive in your life and under pressure in your sport.
Julian Dowe reflects on the many challenges he faced during his journey into professional football, as well as in his career in the game.  It is clear from our conversation that Julian has some regrets about his behaviour.   Consequently, he shares advice to young footballers about how to handle different situations in the game such as dealing with injuries, senior players, coaches and not being selected.  He also touches on who to surround yourself with.
In this solo episode, David discusses the UK Governments decision to take away our autonomy and introduce lockdown 2 across England.  David shares information about resilience and mental toughness to clear up how they differ.  As well as sharing why these traits are so vital for your mental health and well-being at present.  Anyone, from any walk of life can benefit from this episode, so tune in and please feel free to share it.
In this episode, David takes a look back at a number of past episodes and talks about lockdown 2 or the off season in some cases.  He goes on to discuss goal setting and how to set and review goals.  David challenges you to set yourself one goal for the next 4 weeks. What would it feel like if you achieved that goal? How much would that impact your life, the energy you currently have?  The way you relate to people? So what new habit are you going to put in place NOW? 
In this episode, David and Natalie discuss Natalie's journey into professional football coaching. The challenges that she has faced on her way to becoming a pioneer for female football coaches.  Why she decided to write a book, and a one that is laid out as a journal.  We certainly busted a number of myths around Mental Toughness including highlighting that it is not a male macho quality and that Mental Toughness can be developed with the right support and tools at your disposal.  Tune in to this episode, it's a fascinating listen with so many nuggets of advice for young footballers and athletes.
In this episode, Professor Peter Clough goes on to share why he spent a large chunk of his career researching and studying mental toughness.  How the 4C's mental toughness framework has evolved and where it has been applied successfully.  Peter also shares why resilience is a great quality to have, as well as highlighting the differences between resilience and mental toughness.  Which could be argued to show that mental toughness is more valuable for people to move forward and prosper during longer stressful periods, such as right now, in the midst of a pandemic. 
In this episode, Lome and David discuss his professional rugby career and journey into personal training.  Challenges that he encountered such as moving clubs where things didn't work out and not seeing eye to eye with coaches.  Dealing with criticism as an athlete and using difficulties as a fuel to get better and improve as a person and player.      
This is the 3rd compilation episode which is action packed with the best bits from the previous 9 episodes including many pearls of wisdom that the guests have shared on the show.  Listening to the advice I'm hoping will be a time reminder for you to recognise that Mental Toughness is such an important quality for you to develop if you want to move forward and kick on in your life, sport or career.
Join Our Growing Online Community
Are you an athlete, coach or parent that would like to learn how to create sustainable high performance? 
Receive my free fortnightly email, where I share proven Sports Psychology and High Performance tips and strategies. 
If you want some support and motivation straight to your inbox, then fill in your details below.