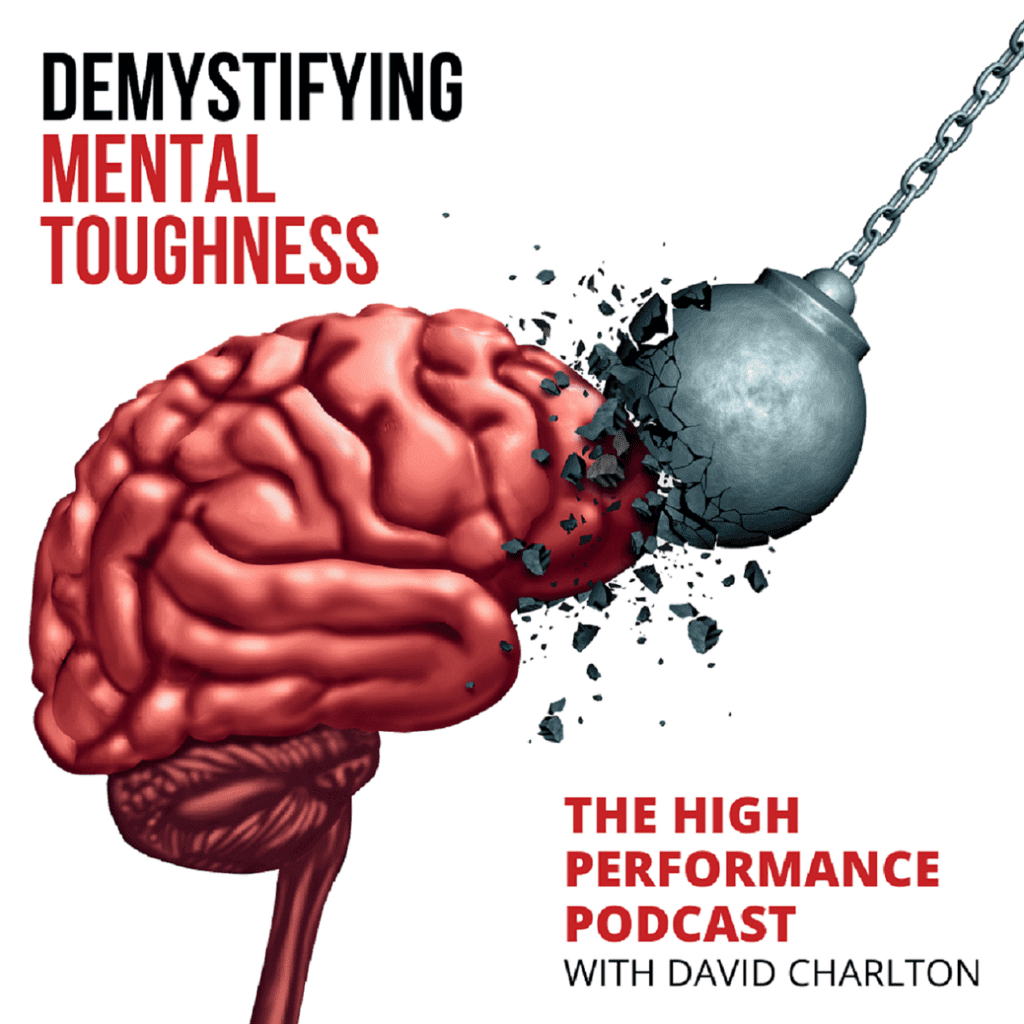 SUBSCRIBE, LISTEN AND DOWNLOAD ON YOUR FAVOURITE PLATFORM
Demystifying Mental Toughness is a podcast for people who want to reach their goals faster and are curious what high performing athletes and professionals do to fulfil their potential.  David Charlton shares insights, strategies and stories from leading athletes, coaches, psychologists and specialists to help you perform to your optimum level on a more consistent basis.  If you're a motivated athlete, coach, sport psychologist, mental game coach or executive listen in for proven and practical advice in this podcast.
David Charlton: Introduction to Demystifying Mental Toughness Podcast
This short episode is a taster to help you get the feel for the show.  By the end of it you'll understand what you can expect and why you should listen to the Demystifying Mental Toughness Podcast.  David also discusses his motivations behind the show,  why Mental Toughness development is so important if you want to achieve your potential. 
Incidentally, did you know that Mental Toughness accounts for up to 25% variation in performance.  
How much difference would that make to you and your life if you even just raised the bar by 10%?
David Jueno: How to Turn Your Life Around and Inspire Others
David Jueno is the founder of The Sports Business Club, an organisation which funds grassroots sport and charity / community projects across the UK.  He also works as a director for Gillingham Town Football Club. In this emotional episode, David Jueno talks about the impact of bullying as a youngster, football in his youth, being a successful sales professional.  As well as drug addiction and losing everything, to rehab and now to his goal of impacting positively on other people's lives.  
Enjoy tuning in!
David Charlton: How Can I Be Grateful For The Little Things
David is a fully approved Chartered Sport and Exercise Psychologist with the BPS, BASES and is a HCPC Practitioner Psychologist.
In this episode, David talks about how and why you should develop an attitude of gratitude into your daily routines.  2020 has been a difficult year for many people where managing your emotions, an important ingredient of mental toughness, has been challenging even for the calmest people. 
Enjoy tuning in!
Alyson Dixon: Mental Toughness Lessons From A World Champion
Aly Dixon is an English long-distance runner who currently holds the 50km world record and won the 2019 50km World Championship in Brasov, Romania. She has also won the British marathon championships two times. Aly is also a proud ambassador for St Benedict's hospice in Sunderland, a charity which specialises in end of life care for cancer patients, which is close to her heart after losing family members to the illness.
Aly talks about her journey into running, why she runs. How she sets goals and maintains perspective when dealing with difficulties and much more…
Enjoy tuning in!
David Charlton Gets Grilled By Nathan Sherratt
In this episode, we're doing things a little differently. After being interviewed on a series of podcasts, I realised there were parts of me that I haven't talked about on my own podcast.  So I invited a great interviewer, resilience trainer for referees and managing director of The Third Team, Nathan Sherratt to give me a grilling and ask me some difficult questions so that you can get to know more about my background.
Dr John Perry: Thrive, Don't Just Survive 2021
In this episode, we talk about an extremely important topic, dealing with stress so that we don't simply survive but move forwards more positively.  I'm joined by Dr John Perry who has led the exploration of specific aspects of Mental Toughness and a variety of applications – including new insights into understanding stress management all of which have direct implication for practitioners.
David Charlton: How To Improve Your Intensity When Training And Competing
In this solo episode, I share my thoughts on some difficulties that athletes are having during the coronavirus pandemic, especially now in the UK with the most recent lockdown.  How this has gone to make them feel and the impact it is had on their intensity levels in training and for those who are lucky enough to practice or still compete. 
Search Our Sports Psychology Website
Are you an athlete, coach or parent that would like to learn how to create sustainable high performance? 
Receive my free fortnightly email, where I share proven Sports Psychology and High Performance tips and strategies. 
If you want some support and motivation straight to your inbox, then fill in your details below.