Sports Psychology for Football
Feel free to take a look at our resources below 
What does working with a Sports Psychologist on a 1-2-1 basis look like for a footballer?
We often get approached by footballers from motivated youngsters out of the academy system, talented footballers in professional football club academies and professional footballers from the lower league's up to elite internationals playing in the premier league.   
As we are not associated with a specific club and your privacy is assured we find that we are very quick in building trust with our footballing clients.  There is an understanding that the details discussed in sessions will not be passed on to team-mates, coaches or the manager of your club without your permission.
Where do Football Psychology sessions take place?
This is dependent on your personal circumstances.  If you play football at the highest level, in the Premier League, you may prefer the sessions to take place at your home in complete privacy.  Or you can visit my offices near Newcastle Upon Tyne.  I also use rented space in different workplaces and hotels to conduct football psychology sessions.  Some sessions may even have a practical element to them.  Where we go on to the football pitch to re-create scenarios and work on your approach that way, this is especially popular with younger players.
What are common demands that impact a footballers form?
There are a range of factors that can influence a footballer's performance, such as a player's playing position or tactical role, the team's style of play, the coaching team's communication style, teammates, opponents, the crowd, social media and press coverage, the importance of games, personal circumstances, transfers, energy levels, lifestyle choices, injury issues, environmental factors and a whole lot more.
Many footballers approach us as a last resort after trying all they know to cope and turn things round.  I'd encourage you not to be one of those footballers and, instead, to be proactive and seek support before things get tough for you. 
I'd hope that by reading the long list of things that can impact on a footballer's form or performance levels you now understand that it may not be straight forward for you to overcome some barriers that exist.  Trying to do it by yourself will make it even harder.  
As it can be quite complex, like a difficult jigsaw, I'd encourage you to check out the person who calls themselves a Sports Psychologist beforehand.  Check that they have the necessary qualifications and experience to help you.  This should be a major factor in who you choose to support you.   
Demystifying Mental Toughness Podcast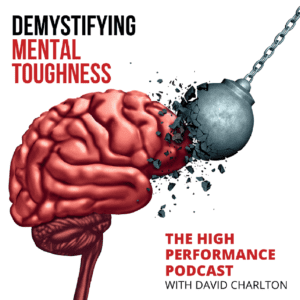 Demystifying Mental Toughness is a podcast for people who want to reach their goals faster and are curious what high performing athletes and professionals do to fulfil their potential. If you're a motivated athlete, coach, sport psychologist, mental game coach or executive listen in for proven and practical advice in this podcast.
What are typical challenges that you help individual footballers overcome?
When working with a footballer the goal of a Sports Psychologist is to help players and teams perform at their best more consistently using mental skills training.  This can help players with: 
Confidence issues that result in a poor run of form
Performance anxiety where players struggle to channel their nerves so underperform, especially under pressure
Lack of composure brought on by fear – be that in front of goal or when passing or crossing the ball
Coping with being dropped or frozen out from a team or squad
Raising their level in training and transferring it to matches
Conflict management, dealing with relationship issues within the team or club
Leadership skills, developing more captain-like qualities or simply helping footballers improve their communication skills so that they can take their game to the next level
How can I improve my mental game in football matches?
When working with a Sports Psychologist to improve your performance, we use mental skills training also known as psychological skills training to help you identify barriers that hold you back.
We then put mental game strategies into practice to help you perform at your best and execute vital skills more consistently which include:
Taking control of your confidence levels
Managing your expectations
Focusing on the process
Changing the stories that you tell yourself about how you should perform
Allowing you to express yourself and play with freedom
Preparing your mind for training and matches
Remaining calm and composed when things don't go to plan
The main interventions that we use to help footballers achieve their goals more quickly include: self-talk or cognitive restructuring, goal setting, visualisation skills, relaxation skills, mindfulness, sports hypnosis and a variety of motor skill developmental approaches.  
How can a Sports Psychologist help my football team?
Football teams that perform to the optimum level or very close to it, all possess group cohesion, a dynamic process that means that the group stick together and remain unified no matter what.
Characteristics that Sport Psychologists help to develop with coaching and support staff when fostering a cohesive team include:
Identification and focus towards "team goals" which can be short and long term
A common identity where individual players refer to the group as "we"
A coming together where successful and unsuccessful outcomes are shared across the group with no blame attached
Highly refined verbal and nonverbal communication and interaction styles
Well communicated and structured expectations so that values, behaviours, roles and statuses are established and maintained
A trust and reliance to work together with a "team first" mentality
Friendship and closeness amongst teammates
To Learn More about Sport Psychology for Football
Read our sport-excellence.co.uk BLOG with a section specificially set up to help footballers!
Key topics such as; playing with freedom, channeling your nerves before and during matches, recovering from mistakes and much more are covered.
Your work with Tom has had a great impact and he's been doing very well recently. He's now progressing well with First Team and has been selected for the England Schoolboy Squad. Thank you for the work you have done with him. I do appreciate Sport Psychology is not just for fixing problems so I'll definitely be in touch again in having you work supporting Tom again