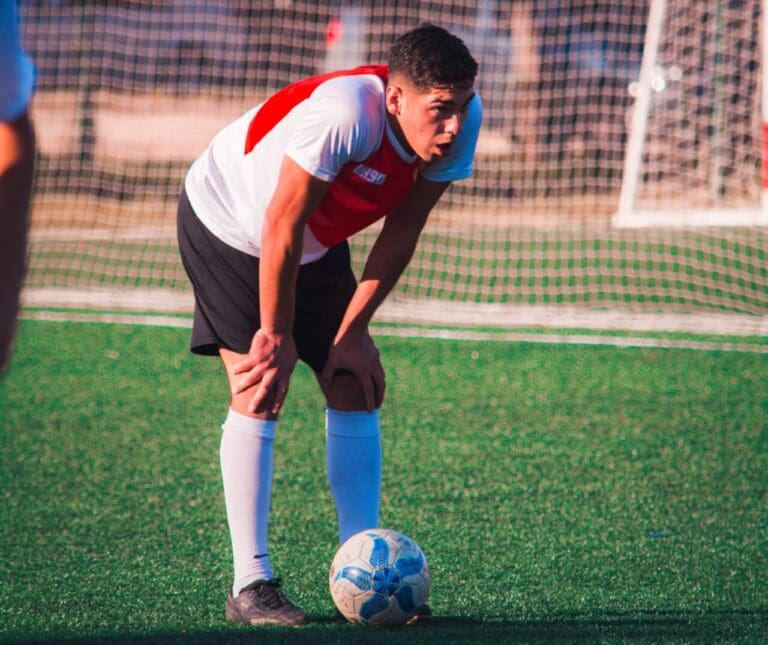 Football Psychology Tips: Case Study: Developing A Fearless Approach With A Professional Footballer
Fear is very common in professional sport and can be overcome
The Client:
A centre forward who had played professional football for 5 years
The Challenge:
The client had played with his existing club for 12 months.  The first six months he played regularly in the first team and performed well personally.  The team however struggled and the manager was sacked.  The new manager did not select him, often he was used as a substitute, playing for 10-15 minutes at a time.  As a result, his confidence slowly disappeared and he played with a sense of dread.  He did not enjoy training and being around the team.
The Objectives:
To help restore the players confidence so that he made the most of training sessions.
To manage criticism better.
To play to his strengths, using his pace and movement on the pitch in training and in matches.
To improve his communication skills with family, team-mates, coaches and management.
Use his pace and movement in training and matches, becoming a constant pest for defenders.
The Process:
Over a four month period we met every two-three weeks between one and three hours at a time, often using zoom.  The sessions included:
A detailed needs analysis using a case formulation approach where trusted team-mates, physiotherapist, friends and family were consulted at the start, during and end of the programme.
The MTQ 48 was used at the start and end of our work (see image below) to measure the footballers mental toughness and our progress, prioritise interventions, observe problematic and helpful patterns of behaviour and develop better coping strategies.
An i3 profile was used to aid the players awareness of personality strengths. This helped with how performance preparation processes were then put into place and how he communicated.
Performance development planning, process and performance goals were developed to improve focus in training and matches.
A counselling style approach was taken when questions over moving clubs were discussed and uncertainty over his future.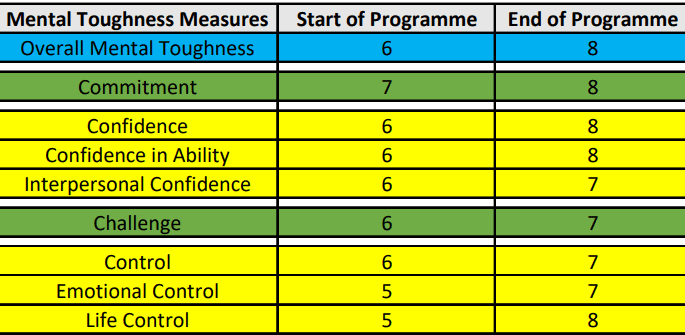 The Outcomes:
The player began to enjoy going to training, he was no longer going through the motions. His preparation for matches was better where he got the maximum from, worked hard and challenged himself daily in training and in the gym.
The culture within the club, where criticism was evident daily he initially found tough, however he began to assert himself more and voiced his opinions rather than feeling sorry for himself.
He had a better understanding of the pressures the management team and other players were under which helped him communicate more supportively to himself and to others.
He trained well, scored more goals and gave the manager a selection headaches.
He put in place a career plan B in case he didn't get the game time he felt he deserved.
The Conclusion
The footballer was fully engaged in the consultations and it benefitted him on a number of levels.
He was happier in himself and was a nice person to be around at home.
He enjoyed training more and got more involved in the banter.
He began to play to his strengths and used his pace and movement much better, scoring many more goals in training and when he got given opportunities to play in matches.
If you'd like to learn more about how I could help you or a team-mate why not get in touch.
Or if you found this article helpful, please share it with your friends, team-mates, parents or coaches.  You can also join our online community – THE SPORTS PSYCHOLOGY HUB – for regular Sports Psychology tips, podcasts, motivation and support.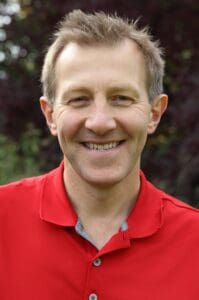 Best Wishes
David Charlton
Global Sports Psychologist who is located near Newcastle Upon Tyne, UK and willing to travel Internationally. David also uses online video conferencing software (Zoom, Facetime, WhatsApp) on a regular basis and has clients who he has supported in USA, Canada, South America, UAE, Australian and New Zealand.
Managing Director – Inspiring Sporting Excellence and Founder of The Sports Psychology Hub. With over 10 years experience supporting athletes, coaches, parents and teams to achieve their goals, quickly.
T: +44 7734 697769
Managing Director – Inspiring Sporting Excellence and Founder of The Sports Psychology Hub.  With over 10 years experience supporting athletes, coaches, parents and teams to achieve their goals, quickly.  
T: +44 7734 697769

29 November 2023 Developing The X-FACTOR To Transform Your Football Performances How to Play Soccer Expectation Free If you were to play soccer or football expectation free what would other people see? From my experience of supporting 1000s of footballers from the 8 year old child up to the Premier League player you'd likely notice
Read More »
Search Our Sports Psychology Website​
Join Our Online Community Now!